MY REFLECTIONS – Volume 2
$0.00
Product Type: eBook
Title of Book: MY REFLECTIONS – Volume 2
Name of Author: Moses Ayomikun Oladipupo (www.ayomikun.com.ng)
Cost: Free
Book Description
This is book is a compilation of my Christian articles. The articles are all published on my blog blog.ayomikun.com.ng. I hope that as you read it it blesses you.
Compare
INTRODUCTION EXCERPT

It is with great gratitude to God Almighty, our Lord and Saviour Jesus Christ, and the Holy Ghost that I present to us the second volume of my book titled "MY REFLECTIONS." It is a series of brand new books but with old contents. It is the seond volume of the collections of my Christian articles. I hope it blesses you.
The following are the contents of this volume:
1. INTRODUCTION
2. THE SOPHISTRY OF OUR TIME
3. YOUR LIFE'S A BEAUTY
4. THE REVELATION OF JESUS CHRIST TO A BROTHER
5. REMEMBER LOT'S WIFE
6. THE VIRTUE OF FEAR
7. THE COST OF POWER
8. THE IMPORTANCE OF EXAMPLES TO LEARNING
9. WHAT DEFINES SPIRITUAL SONGS
10. EGYPTIAN CAPTIVITY
11. BUSINESS, SPIRITUALITY, AND MINISTRY
12. TRIBUTE TO MY LATE DAD
13. CHRISTIAN GIVING
14. THEN WILL I HEAR FROM HEAVEN
15. DO NOT OFFER SACRIFICE OF FOOLS
16. LESSONS TO LEARN FROM JESUS ABOUT RELATING WITH THE OPPOSITE SEX
17. PURITY IN KNOWLEDGE
18. THE GOOD BOOK OF "THE BOOK OF JASHER"
19. THE PARADE OF LOVE AT ITS BEST
20. LOYALTY TO POWERS
My key text for the book tells us that this manner of presenting spiritual truth is common to all, for it says, "For now we see through a glass, darkly; but then face to face: now I know in part; but then shall I know even as also I am known." (1 Corinthians 13:12). So our knowledge of the truth at its best are mere reflections of the actual, and in that he says "darkly," it means we only see spiritual things vaguely and not precisely. We only see in part and know in part. But a time is coming that we shall no longer see mere reflections but the actual truths themselves, we shall see and know not merely in part but perfectly. We, at this time of imperfection, ought to be content with these reflections here and there, provided that what they reflect are actual truths not heresies. In this present time I believe that only the word of God is the perfect truth. Seeing that my articles come very short off the actual truths I wish to present, let the reader compare carefully those things he/she reads with the perfect truth (The Holy Bible).
I believe that despite this it is a useful book of good reflections nevertheless, I therefore recommend it still to the reader. I pray that as you read it it blesses and edifies you. Thank you and God bless you. Amen.
Summary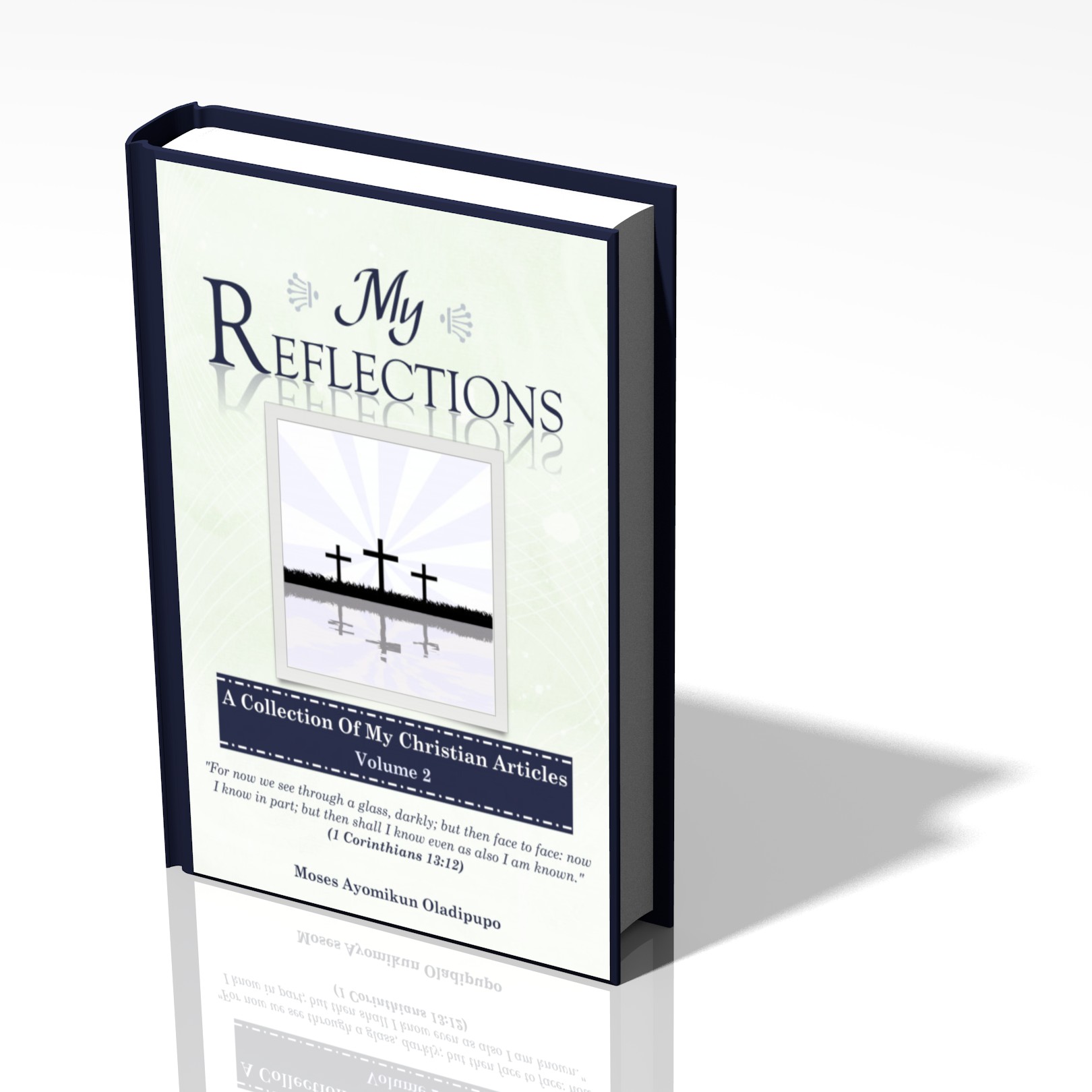 Author Rating
Brand Name
Product Name
MY REFLECTIONS - Volume 2
Price
Product Availability
Moses Ayomikun Oladipupo
My name is Moses Ayomikun Oladipupo. Among other things I love to write.
Summary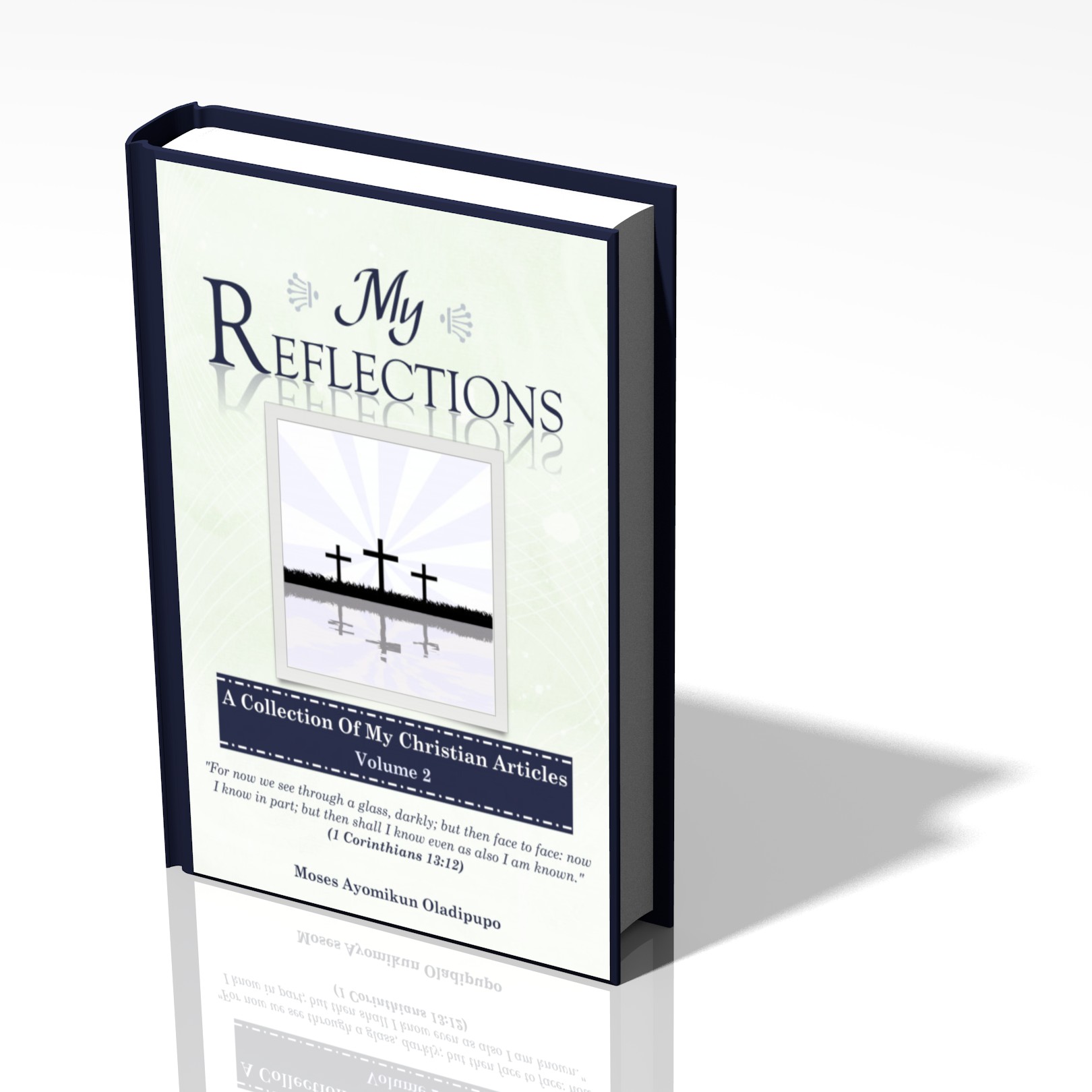 Author Rating
Brand Name
Product Name
MY REFLECTIONS - Volume 2
Price
Product Availability
Only logged in customers who have purchased this product may leave a review.
Sorry no more offers available
General Inquiries
There are no inquiries yet.